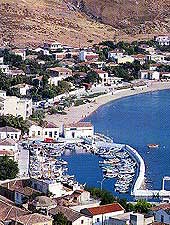 It is island of peacefulness beauty: indented golden coastlines, placid landscapes, and very simple warm friendly people. Lemnos fascinates with its simplicity and calmness, tempts with its beauty. The island that emerged from flames and clouds of smoke.

In the ancient times the island was covered by a cloud of smoke and fire was coming out of it.The fire was coming from the two volcanoes located on the top of its mountains.As years passed by, the cloud of smoke has gone, revealing an island, which once looked like a large field, dry with white sand.
History Of Limnos
Homer reports the Sinties as first inhabitants of the island .They took care of the God of Fire, Ifestos, which Zeus had thrown on the island, so Ifestos in return, taught the Sinties how to be Blacksmiths.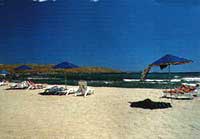 Beaches
In Mirina there are many beautiful beaches near the city. Some of them are Romeikos Gialos and Riha Nera. Other beaches are Plati, Thanos, Kontias, Kotsinas, Kalliopis, Kaminia and Skandali.

Sports
Windsurfing, sailing and water-ski.You can also play tennis.

Night Life
Discos, dancing clubs, bars and cinemas can be found in Mirina.