Summer location
Caribbean Windwards
Winter location
Caribbean Leewards, Caribbean Windwards
Three queen cabins with bed size 155cm x 200cm, each with their own ensuite wet heads and safe. All cabins have Air Conditioning available at night. The standing height in the port aft guest cabin is 220cm, standing height in Starboard front and Port front cabin is 205cm.

The crew use the starboard aft cabin with its own heads.
Price Details
Xmas and New Year : $19,500US / 7 nights

ALL INCLUSIVE CHARTER RATES
Rates include 7 breakfasts, 7 lunches and 6 dinners onboard. It is recommended to take a 7th dinner as a lobster BBQ ashore on the beach or delivered to the yacht.

HALF BOARD CHARTER RATES
Minus $100US per person from the All Inclusive Charter Rates

ADDITIONAL DETAILS
All Charter Rates exclude Moorings (If requested by guest), Charter Cruising Tax, Mustique Mooring Fees ($85US) and Marine Park Fees. We recommend +2.5% of the charter fee to cover incidentals.

RELOCATION / ONE WAY FEES
Grenada / St Lucia / Martinique: $750US to relocate.
Antigua: Please enquire. NOVA will relocate to Antigua in the summer of 2024 or winter of 2025.


Inclusive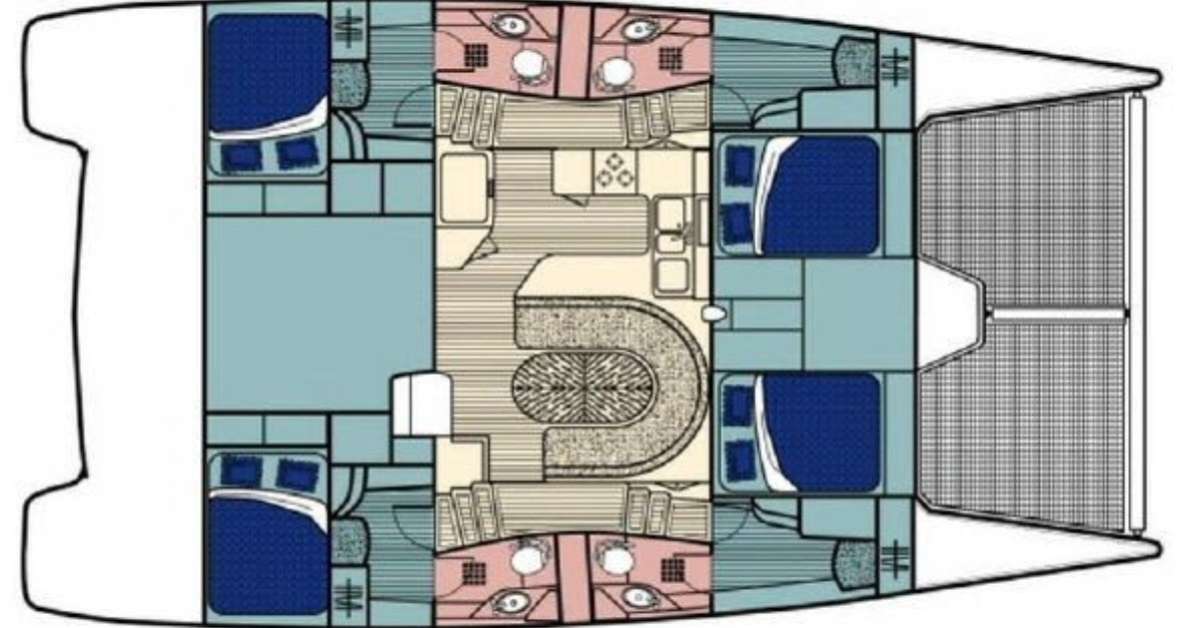 Toys:
Two Bean Bags forward
5 x Inflatables including Inflatable Unicorn
Basic Freediving Equipment Onboard
2 Sets of Dive Gear (experienced divers only)
Kitesurf Instruction
Wing Surf / Foil Instruction

Enquire for additional kayaks / sups / watersports equipment.

Captain Rolf, and chef Mariana have been together for 23 years and look forward to welcoming you on board their yacht NOVA.

The captain – Rolf
Rolf has over 10,000+ nautical miles and extensive experience in maintenance and boat rescue. He spent 29 years boat building, including professional boat building and surveying and owned boat yards in Netherlands before moving to a permanent lifestyle on the ocean. He is a specialist in fiberglass /epoxy and carbon, and a renowned mold maker and prototype boat builder in Holland, including gelcoat and polyester repairs. He also enjoys doing rigging inspections and adjustments as well as kitesurf and skim-board building and repairs.

Rolf was also an Old School & Big Air kitesurf teacher and still enjoys kitesurfing and showing clients all the best locations to kitesurf in the Grenadines if they want to kite. If they don't, he is also more than capable and happy to be the professional charter captain, bar tender, tour guide (above and under the water) and water-sports tender driver /enthusiast.

Hobbies: Kitesurf, wing, windsurf, mountain bike, snowboard, wakeboard, fitness, SUP, freediving, and diving.

Chef and hostess – Mariana
With over 10,000+ nautical miles, Mariana is an experienced crew and chef onboard Nova. Mariana has been a chef onboard charter yachts for five years in the Caribbean and in Greece. Meals onboard are fresh and healthy using only local quality ingredients. There is a Mediterranean style, along with influences from her time in Holland and Bulgaria and of course, the dishes of the Grenadines. Mariana is recently gluten free and also able to cater for any special requests or allergies. Nova is also equipped with extra large fridges so there are no problems with storage of those special request items onboard!

Mariana is also nicknamed 'Doctor Google' due to a wealth of knowledge in first aid. She is also a natural hostess, always eager to show guests the best spots to visit and help plan itineraries.

Hobbies: Kitesurf, mountain biking, snowboarding, wakeboarding, fitness, yoga, SUP, freediving.

Rolf and Mariana aim to incorporate boat life and healthy living to create a healthy environment onboard. Their relaxed demeanor and fun personalities mean that whether guests are looking to hike every peak on very island they visit or sip cocktails, relax and doze in the sun all day, they will feel at home onboard NOVA.

Start date: Nov 01, 2023, End date: Dec 31, 2023 - Transit: Greece - Mykonos to Grenada, St Georges
Start date: Jan 06, 2024, End date: Jan 20, 2024 - Booked: Grenadines, West Indies* to Grenadines, West Indies*
Start date: Jan 24, 2024, End date: Feb 07, 2024 - Booked: Grenadines, West Indies* to Grenadines, West Indies*
Start date: Feb 10, 2024, End date: Feb 25, 2024 - Booked: St. Lucia to Grenada, St Georges