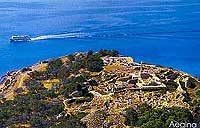 The closet island as you depart from Kalamaki marina and is usually the first or last stop of your trip if you are sailing the Saronic Gulf. The Temple o Aphia is well worth a visit. You can either visit by taking the bus from the main harbor or moor in Agia Marina and take the caique. The temple is one of the best developed classical temple in Greece. Don't forget to stock up on pistachios as they are produced on the island of Aegina and are probably the best in Greece.

Aigina Town
The low pink and white houses of the town cluster round the little harbour of coastal and fishing vessels protected by a charming chapel dedicated to St Nicholas, the patron of sailors. The shops along the waterfront sell the local specialities : pottery, pistachio nuts and marzipan; some of the boats act as floating shops dealing in fish, fruit and vegetables.

On Cape Colonna, north of the town, stands a fluted column crowned with a capital, once part of a temple to Apollo errectued in the 5 C. BC; excavations in the neighbourhood have uncovered the remains of a theatre and a stadium, as well as a prehistoric dwelling (museum). From the beach remains of quays of the ancient harbour can be seen below the surface of the sea.

Perdika
Perdika links 3 km - 2 miles from Aegina town. There is a fine beach on the way to Perdika. The charming fishing harbour lined by fish tavernas, affords a good view of Moni island. Excursions by boat can be made to the island ( old monastery, beach, camping site) in summer.
PLACES TO MOOR
Main Harbor Aegina -- A well sheltered harbor but when there are strong southerly winds it does have a bit of a swell. Mooring is stern-to or bow to the quay. A good place for provisioning, water and fuel.
Perdika -- Small bay on the SW of Aegina. It is a good shelter from normal winds the bay is open to the west but Nisis Moni does offer protection from westerly winds. Care must be taken if you decide to tie quay. Depths vary from 1,5M to 1,9M so some care must be taken. No fuel available, water can be arranged. The taverns on Perdika have excellent fresh fish.
Ag. Marina -- A large open bay located in the NE corner of the island. Mooring is in the bay . This area is not well sheltered but if the weather is calm it is a nice area to moor in
Beaches
Agia Marina, Marathona, Souvala and Perdika are some of the wonderful beaches on the island.

Sports
The island is suitable for all kinds of water-sports.

Night Life
Restaurants, taverns and night clubs can be found in the city of Aigina and in many other beautiful locations.