Summer location
Greece, Turkey
Winter location
Greece, Turkey
Introducing M/Y Zia, a stunning 50-meter motor yacht built by the renowned shipyard Ortona Navi. This masterpiece of engineering and design is now available for charter, offering an unparalleled experience on the high seas. With its sleek lines and luxurious features, M/Y Zia is a true testament to elegance and sophistication.
Step on board and be greeted by a spacious and opulent interior, meticulously designed to provide the utmost comfort and style. The yacht boasts multiple lounges, a formal dining area, and an impressive sky lounge, all adorned with exquisite furnishings and finishes. Whether you're hosting a lavish event or simply enjoying a quiet evening with loved ones, M/Y Zia offers the perfect setting.
The outdoor spaces are equally impressive, with expansive decks that provide breathtaking views and ample space for relaxation and entertainment. Lounge on the sun deck or unwind in the Jacuzzi while enjoying the sea breeze. For the more adventurous, M/Y Zia offers an array of water toys and tenders, ensuring endless fun and excitement.
With a dedicated crew of experienced professionals, your every need and desire will be catered to with utmost care and attention. Indulge in delectable cuisine prepared by the onboard chef, served in the elegant dining areas or al fresco under the stars.
M/Y Zia promises an unforgettable charter experience, where luxury and adventure seamlessly blend. Embark on a journey of a lifetime and create cherished memories aboard this magnificent vessel.

Main Deck: Master Suite: Spacious with private corridor and is linked to a study. The master suite has a very large ensuite bathroom with a large jacuzzi in the middle.

Lower Deck: Two spacious double cabins with ensuite bathrooms and open dressing areas. Two double cabins that can be converted into twin cabins with a small office. Both cabins have ensuite shower-rooms, with the shower cabins decorated in blue mosaic.

Upper Deck: One VIP cabin with panoramic view, with ensuite bathroom in blue mosaic.
Plus Expenses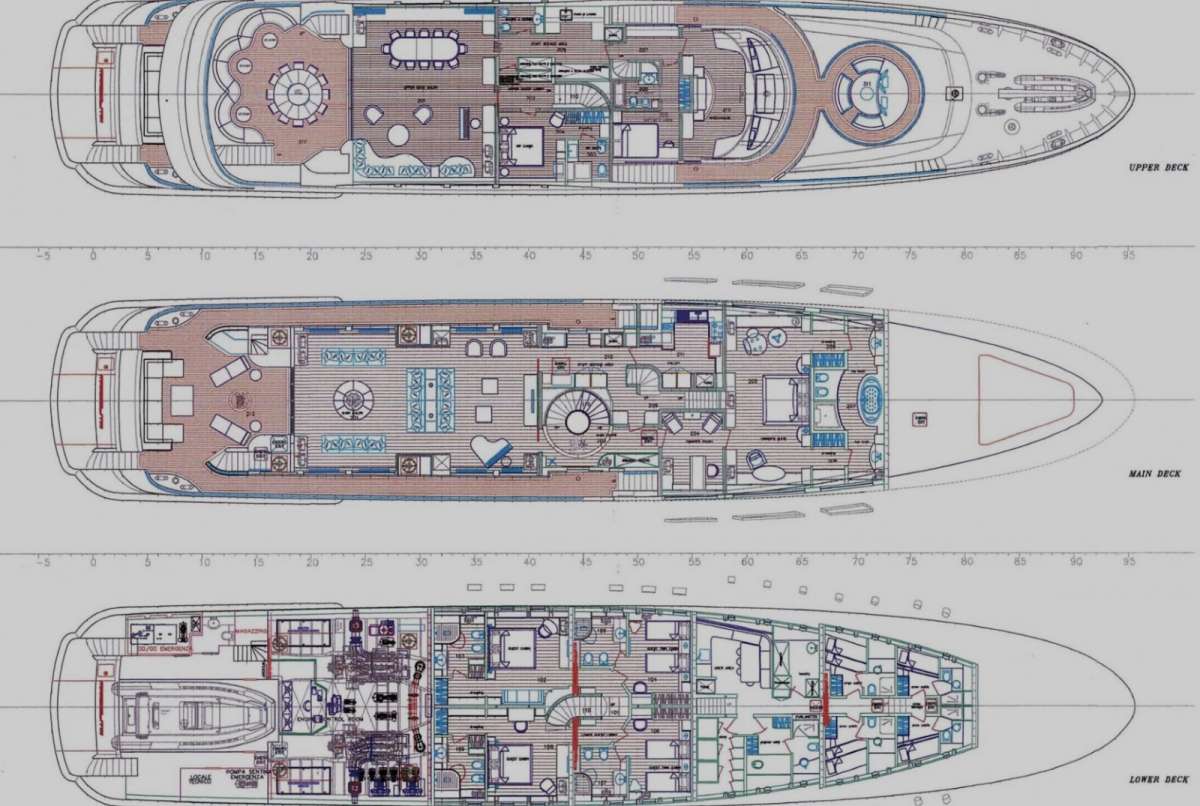 Toys:
CASTOLDI 23FT with 265 HP
SEADOO LIMITED 265,WAKE PRO 215(Intelligent Brake & Reverse System) (2)
FunAir Jetski dock (1)
Flyboard (1)
Seabob (2)
E-Foil (2)
Pipe & Accessories (1)
FunAir Sundeck Slide (1)
Stand Up Paddelboards (4)
Inflatable double handed kayaks (1)
Connelly Orbiter 3 Seater (1)
Connelly BIG O Single Seaters (2)
CADET Child Slide ADJ
Connelly Odyssey (Double Skis) (1)
Kneeboard (1)
Inflatable MiniCat (1)
Single Ski Radar P-Six (1)
Connelly Super Sport Kids Skis (1)
Wakeboard (1)
Yoga mats
Dumbells
Resistance bands
Masks & Fins

All particulars are given in good faith and are believed to be correct but cannot be guaranteed.
Entertainment:
Sky Lounge
3 Music Zones – Sky Lounge – Bridge Deck AFT – Sun Deck
65 Inch TV
Xbox
Sonos - ceiling speakers
Safes in all cabins
LCD TVs and Sky TV with independent decoders for every cabin,
Each deck has its own independent music system
Captain: Tasos Kabitis
Captain Tassos graduated from the Greek Merchant Marine Academy with a Class A diploma. He worked on cargo ships all around the world for several years before devoting the last 25 years to luxury yachts for charter and private use. He was captaining M/Y Let it Be for the last 18 years. He is exceptionally knowledgeable about the Aegean and Ionian Seas, the Turkish coast, and the French Riviera. He is experienced in leading a team, is highly professional and very safety oriented. He speaks Greek and English with ease.

Chief Officer: Theodoros Gkoulas
Our skilled Chief Officer on board Motor Yacht Zia is Theodoros. He is a fantastic addition to the crew because of his vast experience in the luxury and commercial maritime sectors. His dedication to safety, and hospitality, as well as his skills in marine operations guarantee that the trips on Motor Yacht Zia are not only flawless but also handled with the highest level of professionalism and knowledge. He speaks Greek and English fluently.

Chief Engineer: Dimitris Chaniotakis
Our Chief Engineer aboard Motor Yacht Zia is Dimitris. His strong background in maritime engineering and his unwavering dedication to quality make him an invaluable asset to the ship's operations. He has long experience as a Chief Engineer on luxury yachts and cargo ships that make him an invaluable component of the crew. He is a great team player, always ready to help and assist the guests and his teammates. His commitment to upholding the highest engineering standards guarantees that Motor Yacht Zia performs at peak efficiency and provides her guests with an amazing experience.

Bosun/ Assistant Engineer: Ioannis Dapontes
Meet Ioannis, a remarkable member of our crew on Motor Yacht Zia. With a diverse skill set and years of experience in yachting, Ioannis enhances our guests' experience with a combination of technical expertise and water sports mastery. Ioannis's multifaceted talents and commitment to delivering excellence make him an invaluable member of our team on Motor Yacht Zia. Whether it's ensuring the vessel's smooth operation, orchestrating thrilling water sports adventures, or fostering exceptional guest experiences, Ioannis consistently raises the bar. He speaks English and Greek fluently.

Chef: TBA

Chief Steward: TBA

2nd Steward: TBA

Steward: TBA

Deckhand: TBA

Deckhand: TBA

Deckhand: TBA