Summer location
W. Med -Riviera/Cors/Sard.
Winter location

One twin cabin can be converted into a double bed cabin.

Three spacious bathrooms offer enough space and privacy. Twin beds share a bathroom, whereas two are ensuite to the double rooms.

Each cabin has a hair dryer, bath and beach towels, and beddings with single duvets on each bed.

The main features of the galley are a TV in all cabins and the salon, a microwave in the kitchen, a washing machine and a dryer, a Miele wine cooler and a barbecue grill on flybridge for absolute pleasure.
Price Details
Price excludes:

APA 9.000,00 €
LOCAL TAX if applicable

PLEASE CONTACT CLEARING HOUSE TO CONFIRM AVAILABILITY



Plus Expenses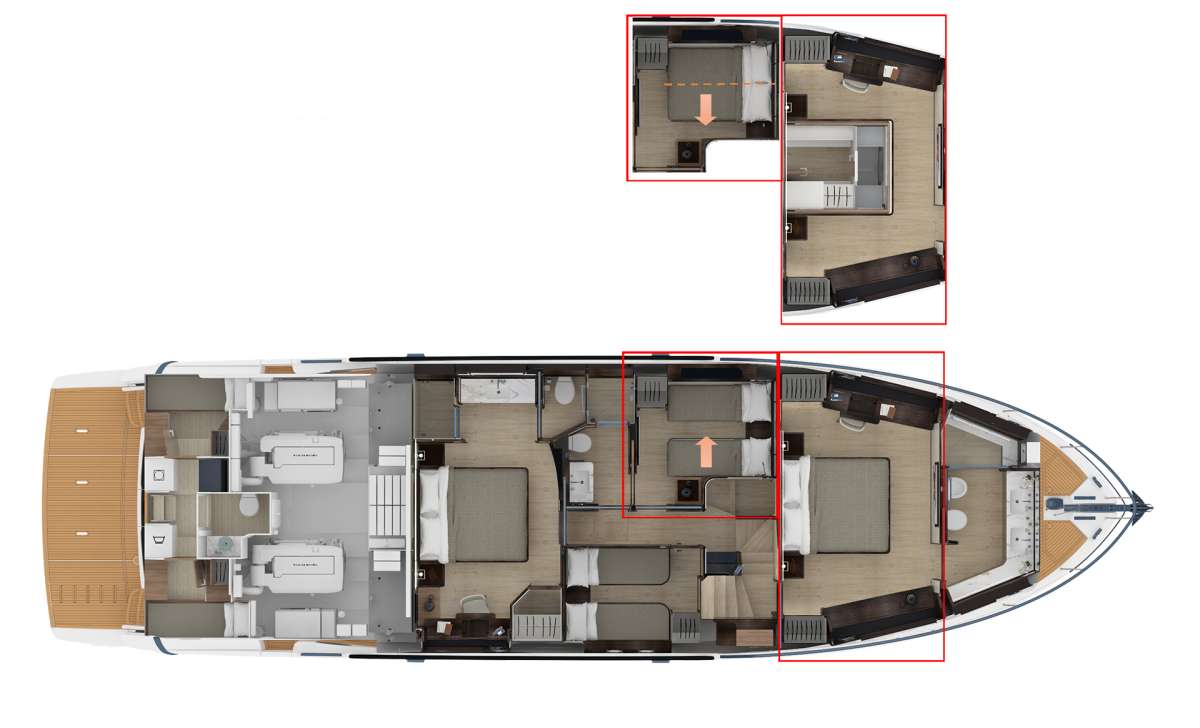 Toys:
Floating Island - Aqua Marina
Kayak - 3-seater
2 x Towables - Jobe
Sea Scooter - Yamaha seawing 2
Entertainment:
Bow thruster
Complete navigation equipment - AIS, weather station etc.
Stern thruster
Watermaker - desalinator - 260l/h with remote control from the helm
Hydraulic Bathing platform
Cockpit cushions
Cockpit table
Grey Water Tank
Hard Top Bimini + electrical soft top
Sun awning (aft)
Sunshades
Teak cockpit
Teak deck
Teak table
Ultra Anchor - 60 kg; stainless steel
Miele appliances throughout (microwave - NO OVEN, dishwasher, 4-burner-induction hob etc.)
Refrigerator + Additional Freezer-Fridge-combination (instead of ice maker) in the storage room
Wine cooler (Miele)
Washing machine + dryer (Miele)
Stabilizers: Zero speed Humphree fin
Barbecue grill on flybridge
MAURIZIO FARINA - YACHT CAPTAIN

PROFILE
Maurizio is a professional and experienced skipper who continuously exceeds both company's and personal goals. He is a hardworking, reliable, and friendly person, very enthusiastic and passionate about his work. With the so far experience and education he has gained significant qualifications as well as necessary responsibility and professionalism for work. Enthusiastic about travelling, passionate about yachting, activities in the open, healthy food and dedicated to his family. Maurizio is a true team player and a people person who will always be at your disposal.

ADDITIONAL SKILLS
Languages: mother tongue Italian, fluent English, basic French / Spanish
Technical knowledge in different areas (engineering, electronic, navigation systems)
Computer literacy
Dealing with yacht and company accounts, budget, and costs optimization

CERTIFICATES
- CoC STCW 3000 GRT (merchant + commercial yachts)
- CeC MCA 3000 GRT
- STCW Basic training with full refreshesas per up-to-date amendments
- Firefighting advanced
- R.A.D.A.R (basic)+ R.A.D.A.R (ARPA)+ ARPA S.A.R.
- Medical care
- Ship security officers / SSO (MCA)
- Business & law (MCA)
- Man overboard (MOB) - Helicopter underwater escape
- Proficiency in rescue boats and survivalcraft
- Security duties
- Leadership and teamwork (managerial)

EMPLOYMENT AND EXPERIENCE
- IL SOGNO" (Extra by ISA 30 mt), Captain/Engineer (Sep 2022 – Apr 2023)
- M/Y "CANALI A" (Canados 35 mt), Captain/Engineer (Jun 2022 – Sep 2022)
- M/Y "MAROON" (Riva 28 mt), Captain/Engineer (May 2018 – Nov 2021)
- M/Y "PICCOLINO"(San Lorenzo 30 mt), Captain/Engineer (May 2017 – Feb 2018)
- M/Y "CARBON" (Lazzara 25 mt), Captain/Engineer (Oct 2011 – Jan 2017)
- M/Y "ALEXAMARE" (Riva 23 mt), Captain/Engineer (May 2007 – Sep 2011)
- M/Y "SANTE'" (Riva 24 mt), Captain/Engineer (Feb 2005 – Apr 2007)
- M/Y "POCKET COFFEE" (Riva 15 mt), Captain/Engineer (Apr 2002 – Jan 2005)
- M/Y " LU ONE" (Cigarette 15 mt), Captain/Engineer (Apr 2002 – Nov 2004)
- M/Y "DELTA FLYER" (Sunseeker 32 mt), Captain/Engineer (Mar 2001 – Oct 2001)
- M/Y "WHITE CLOUD" (Sunseeker 22 mt),Captain/Engineer(Mar 2001 – Oct 2001)
- M/Y "LADY IN BLUE" (Benetti 43 mt), 1st mate (Mar 2000 – Oct 2000)
- M/N "ZAFFIRO" (Passengers ship 36 mt), 1st mate, (May 1999 – Sep 1999)
- M/Y "KING" (Feadship 43 mt), 1st mate, (Oct 1997 – Mar 1999)
- M/Y "BLUE NARWHAL" (Benetti 55 mt), 1st mate, (May 1997 – Sep 1997)
- M/Y "RAMSES" (Van Lent 44 mt), 1st mate, (Feb 1997 – May 1997)
- M/Y "IF ONLY" (Van Lent 39 mt), Bosun, (Dec 1994 – Feb 1997)
- M/Y "MONEIKOS II" (Feadship 37 mt), Bosun,(May 1994 – Sep 1994)
- M/Y "IF ONLY" (Van Lent 39 mt), Deckhand, (May 1993 – Sep1992)
- M/N "DEA DIANA" (Passenger ship 26 mt), Deckhand, (May 1992 – Sep1992)
- "CP 2011" (Nelson class 15 mt), Deckhand – Sergeant, (Mar 1991 – Feb 1992)
- M/Y "Annabelle" (Riva 24 mt), Captain / Engineer, Mar 2022 – Apr 2022
Delivery of the brandnew yacht to me by the shipyard
Transfer La Spezia – Imperia
Training the Swedish owner (all equipment: use, care and maintenance)
Transfer of the yacht side to side a cargoship for delivering to the owner in Sweden

- M/Y "VistaII" (Tecnomar 27 mt), Captain / Engineer, Jan 2008 – Feb 2008
Three (3) deliveries Sanremo– Porto S. Stefano – Sanremo – Porto S. Stefano
Russian owner

- M/Y "BLOWZY" (50 mt Jet boat), 1st mate, Feb 1999 – May 1999
Shipyard and warranty jobs @Astilleros de Mallorca– Palma de Mallorca (Spain)
Delivering Antibes– Palma de Mallorca – Antibes
Turkish owner



MIA MARUŠIČ - STEWARDESS

PROFILE
Mia is a highly organized, communicative , fun, adventurous individual who enjoys being outside and especially being on the water. Open-minded, team player, willing to learn, and driven with a sense of initiative. Patient and kind, always trying to bring a smile to work. She is extremely motivated, detailed, well organized and a hardworking individual who takes care of her duties efficiently, fast and in time. With interest in all kinds of outdoor sports, meditation and self improvement, exploring the world and meeting new cultures, makes her a real people person eager to offer her gained skills in the work.

MARITIME QUALIFICATIONS
- Basic Training STCW 2010,Croatia exp.2028
- Seafers Medical Cerificate - Croatia exp. 2025


SKILLS
- silver service
- basic sommelier skills
- housekeeping
- adaptability
- communication skills
- event organisation
- attention to details
- babysitting

WORK EXPERIENCE
- MORUS Estate | Bed and breakfast junior operator - June 2021 - February2023
As part of the opening team in this hospitality estate, which includes a small hotel, fine dining restaurant, and pool bar, I helped establish the reception
department and prepared gourmet breakfasts for high-end guests. In my role, I informed guests of highly personalized leisure activities,
improving my communication skills through active listening and providing appropriate advice. I tended bar, where I served a premium selection of
alcoholic beverages, cocktails, wines, coffee, and cigars. Over the two years I worked there, I collaborated on organizing team- buildingevents for local
and international companies, which includedwine events and fine dining experiences.

- DAM boutique hotel & restaurant | Housekeeping and service - June 2021 - September 2021
I had an privilege to work part-time in one of Slovenia's eightMichelin-starred restaurants. As a housekeeper in luxurious rooms, I ensure their
cleanliness and aesthetic appeal, in addition to maintaining the cleanliness of the restaurant, bar, and exteriors. I Occasionally assisted with breakfast
service, and helped cater various events, which enabled me to develop my high-level serving skills and paying attention to detail.

- HOTEL GREDIČ| Junior manager - April 2017 - March 2020
I began as a housekeeping intern at this property, which includes a boutique hotel, restaurant, and wine cellar. After completing my internship, I was
offered a position as a receptionist. In addition to my receptionist duties, I supportedthe restaurant, assistedwith organizing weddings, acted as
hostess for hotel art exhibitions, smaller conferences and wine events. My
experience in the restaurant sparked my interest in gastronomy and led me to enroll in a basic sommelier course, where I gained my wine tasting and
basic paring skills.