private yacht charter cruises
Summer location
athens greece
Winter location
Bahamas
Luxury motor yacht LADY S by Benetti
ON DECK MASTER STATEROOM: Forward. Upon entering, there is a library with settee and 45" TV. The master stateroom is full beam with walk-around king-size bed facing forward. There is a walk-in closet to port and entrance to the en-suite bathroom on the starboard side. Luxurious bathtub, with separate stall shower, his-and-hers sinks. Private head locker with toilet and bidet. Entertainment system featuring 43" Sony Smart TV with individual satellite receiver. Large windows create abundant natural light in the Master Stateroom.



LOWER DECK GUEST STATEROOMS:

AFT TO PORT: Situated midship. Twin beds with bed side lamps, side tables and a generous sofa lounge area. En-suite features stall shower, sink, and head. Entertainment system featuring 37" Sony Smart TV with individual satellite receiver.


AFT TO STARBOARD: Situated midship: Twin beds with bed side lamps, side tables and a generous sofa lounge area. En-suite features stall shower, sink, and head. Entertainment system featuring 37" Sony Smart TV with individual satellite receiver.



FORWARD TO PORT: VIP Stateroom with walkaround queen-size bed, bed side lamps, side tables and a generous sofa lounge area. Entertainment system features 37" Sony Smart TV with individual satellite receiver. En-suite features a stall shower, sink, and head.



FORWARD TO STARBOARD: VIP Stateroom with walkaround queen-size bed, bed side lamps, side tables and a generous sofa lounge area. Entertainment system features 37" Sony Smart TV with individual satellite receiver. En-suite features a stall shower, sink, and head.



All staterooms include individual satellite receivers, individual climate control, port holes allowing natural light (with blackout for evenings), robes, hairdryers, laundry hampers, and luxurious Molton Brown bath products.



Bed sizes and bedding:

Master: 73"x 73" – Feather

Port VIP: 80" x 60" – Feather

Starboard VIP: 80" x 60" – Feather

Port Twin: Bed sizes: 77" x 33" – Feather

Starboard Twin: 77" x 33" – Feather
Price Details
10-night minimum over the holidays, unless Christmas week books first.
Plus Expenses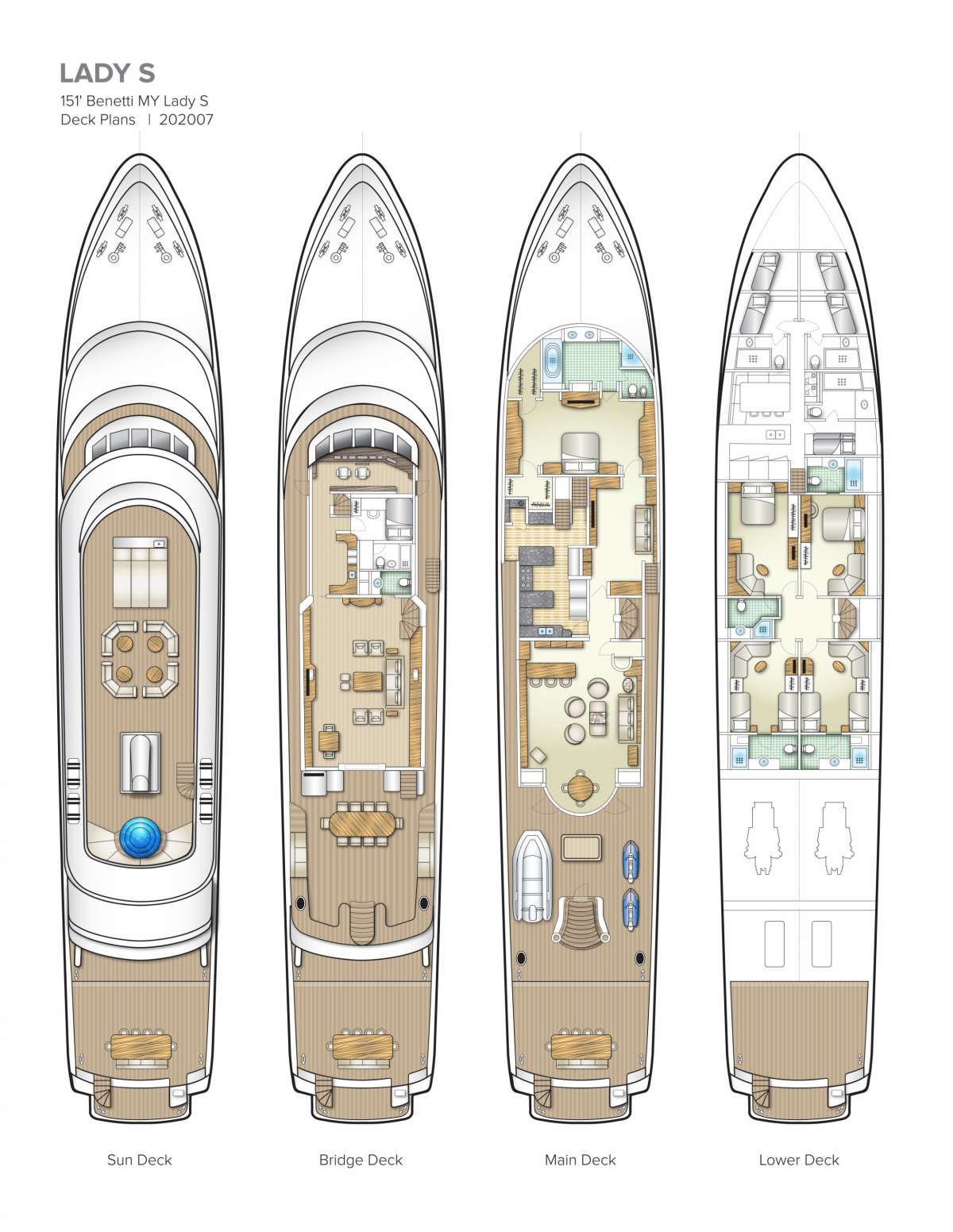 Toys:
~34' Intrepid Nomad SE 2020 with twin 350hp Mercury engines, comfortable seating and a hard top to provide shade, a depthsounder, plotter, electric head and ample storage, ideal for fishing.
~ 17' AB Inflatabl Tender 115hp Yamaha Outboard (2013) with GPS/Charts and sounder (water depth and fish)
~ 2 x Seabobs F5 (2017)
~ 2 x 3-person Yamaha FX Cruiser waverunners (2017)
~ 2 x Jetsurf Factory GP motorized surfboards (2018)
~ 2 x 10'6" Bote Drift inflatable stand up paddle boards
~ 1 x Hobie Mirage I14T inflatable kayak 2-seater (can use pedal fins or paddles)
~ 1 x Hobie Mirage I12S inflatable kayak (single, can use pedal fins or paddle)
~ Full array of Fishing Equipment including 4 x Spinner Rod and Reel and 2 x Penn Rod and Reel
8 x Noodles
~ Sun Deck Jacuzzi with oversized sun pads
Sunbrite 32" HDTV with Apple TV on the Bridge deck aft
~ Towables: Orbit 3 Soft Top Towable 3-person tube; Connelly Big O single person towable tube:
Wakeboard and 1 x slalom ski
~ Beach BBQ Setup with 9'x9' gazebos (2), charcoal BBQ
~ SCUBA for Certified Divers Only

SCUBA Gear – 12 full sets
-BCD's: 10 Scubapro with Air 2 Inflators (2 small, 6 medium-large, 2 XL-XXL) all highly adjustable, and 1 others with traditional regulator and inflator setups (one large)
-Regulators: 10 Scubapro to match the BCD's, and 1 traditional setup
-Masks: 19 of various brands, fits, and colors with snorkels for each
-Fins: 10 adjustable pairs (2 Xsmall, 2 small, 3 medium-large, 3 large-Xlarge) plus 1 size 11-13
-Wetsuits: 10 men's 2.5mm shorties (2 small, 2 medium, 2 large, 2 XL, and 2 XXL)
10 women's 2.5mm shorties (2 size-2, 2 size-4, 2 size-6, 2 size-8, and 2 size-10)
-Computers: 3 Wrist computers as well as 2 on the consoles of the traditional regulator sets
-Tanks: 14 aluminum 80's
-Many additional accessories including 7 torches, surface marker buoys, mask strap covers, etc.
-Compressor (4 tanks / hour)
Entertainment:
AFT DECK: Shaded al fresco dining area for up to 10 guests with 6 chairs and bench seat aft. Stairwell on the port side leads to the swim platform.

MAIN SALON: Exquisite wood floors and large windows create a wonderfully inviting space. Sofa with coffee table, 2 ottomans and 3 club chairs. There is a day head on this level. Entertainment center with 50" Sony Smart TV with individual satellite receiver. Full wet bar with 3 bar stools forward to port.

SKYLOUNGE on BRIDGE DECK: Sofa with coffee table, 4 club chairs and 2 ottomans, plus a game table aft. There is a day head on this level as well as a pantry ensuring optimal service. Entertainment center with 56" LG Smart TV with individual satellite receiver.

BRIDGE DECK AFT: Magnificent oversized deck with generous seating for al fresco dining. Shades extend aft providing ample shade. Bench seating aft with hi-lo cocktail tables. Sunbrite 32" HDTV with Apple TV.

SUN DECK:
Forward: Oversized sun pads with optional shade awnings, full wet bar with sink, fridge and ice maker.
Mid: Guests can gather for sundowners around the central alfresco lounge (covered with shade awnings) which has four corner sofas each with a drinks table.
Aft: new Jacuzzi with LED lighting and an easy touch face to control the jets and circulation. Raised platform sun cushion pads surround the Jacuzzi with spectacular views. There is a second fridge at the mast table.

~ There is blackout available for each porthole
~ The master cabin has it's own black out system
~ Each cabin's got a GHD 1800-2100 watt hairdryer
~ Each cabins got their own laundry bag. When we take the laundry in the morning it's returned in the evening during turn downs
~ We make use of Molton Brown shampoo, body wady wash, body lotion and conditioner
~ Library TV - 45", Sky Lounge 56", Main Salon 49.5", Master 43.5",
~ Port twin, Port Vip, Stb Twin, Stb VIP are all 37"
Communication:
Crestron iPad controls with 3 independent airplay channels, enables you to airdrop / stream music from 3 separate devices at the same time, and play in any area of the vessel.
DirectTV USA with Music Choice, Business Xtra Pack, Entertainment Unlimited, Starz
PLEX Movie Server
V-SAT constant internet via wi-fi throughout the yacht (4mb download speed and 0.5mb upload speed, uncapped, with upgrade options available to purchase.)
CAPTAIN
NICK ALLERY

Nick has been sailing on the high seas for the past 15 years. His education of the water began at a young age sailing with his uncles and surfing on the pristine coastlines of Victoria, Australia. Captain Nick's greatest fulfillment comes from working with a passionate team and providing the ultimate experience for his guests. Captain Nick has vast worldwide cruising experience from the far reaches of the Indian Ocean to the tropicals of the Bahamas. He looks forward to welcoming you onboard Lady S.

CHIEF ENGINEER (Rotation)
KEITON BRYANT

Keiton was born in Jamaica. He was a marine engineer for 5 years on different installations, including commercial tankers, cargo ships and yachts. He has worked with Lady S through shipyard periods and guest trips and prides himself on ensuring that all machinery and equipment is operating safely and is maintained for everyone onboard. Keiton is constantly looking for new and better ways to perfrom his duties, keeping up to date with the advancement in technology and marine engineering. Ensuring guests can relax and be comfortable during their adventures aboard is Keiton's main objective and one that he has succeeded at time and time again. He has a soft and quiet nature and is always willing to lend a helping hand. One of his passions is to teach and share his knowledge. During periods of down time from the marine environment, Keiton works as an assistant teacher in Jamaica. He enjoys long runs and hiking.

CHIEF ENGINEER (Rotation)
FABIAN GOODHALL

Fabian is an enthusiastic Jamaican marine engineer, who boasts 9 years of experience on commercial vessels and gas tankers. With his experience, knowledge and skills set, he has worked with various vessels all over the world providing dependable, reliable, and outstanding service. His ultimate goal is to ensure the safety of the guests and crew by managing the safe operation of machinery and equipment onboard. He is energetic, sociable, goal oriented and a charismatic team player who aims to ensure that the guests have the most exciting and unforgettable moments while onboard. Being a lover of sports, he plays football and cricket while resting from his engineering duties and finds joy in sharing his Jamaican culture with those around.

FIRST OFFICER / DIVE MASTER
LUKE SUMNER

Luke hails from a small town in South Africa called East London. He has been in the yachting industry for 5 years and has progressed through the ranks quickly with an attitude of hard work and discipline. He is working towards his Officer of the Watch <3000GT. Luke has always had great affinity for the ocean, whether being on top of the water or under it, so when it comes to fishing, diving and water sports he is your guy. Lead Dive Master on board the Vessel, Luke has a passion for the underwater marine environment. He prides himself in excelling his guests experience through strong organisational skills and a variety of options from just dipping toes in the water to an early morning fishing trip or scenic drift dive to experience the wonders that the underwater world has to offer. Luke has a wonderful and open personality, always willing to interact and share his knowledge of the incredible environment he gets to work in everyday.

BOSUN
JOHAN GREYLING

Johan was born in Johannesburg, South Africa. He has been working onboard luxury yachts for the past couple of years exploring the Caribbean Sea and Pacific Ocean and visiting some of the world's most beautiful islands. He discovered his passion for the ocean and marine life from a young age, being privileged enough to grow up in a family of sailors. Johan is always keen to explore new waters whilst using his navigational knowledge and respect for the ocean as his guide. His experience and family gave him the necessary background and confidence to pursue his dreams and become a crew member on a large yacht. His passion for the outdoors and physical activities led him to many sports such as tennis, rugby and athletics. Priding himself in the ability to always be up for a challenge, and learning from failures and success is his life motto.

CHIEF STEWARDESS
RENE'T DOMINGUES

Rene't is from a small beach town called Plettenburg Bay in South Africa where her great love for the ocean began. She grew up surfing, kite surfing, diving and exploring the natural surrounding forests. She started her yachting career at the age of 18 and has sailed across most of the oceans, learning and experiencing different cultures, working on different yachts and exploring the Pacific, South Pacific, East China seas, Indian Ocean and the Mediterranean. She is also a surf instructor, lifeguard and a PADI rescue diver. With over a decade of experience in the yachting industry, she has excellent service skills and a fine eye for detail. Her calm and happy personality makes her the perfect host for guests from all corners of the world. Rene't takes great pride in giving her guests seven-star service at sea. She is devoted to make your stay onboard an exclusive and unforgettable holiday.

SECOND STEWARDESS
JOANA DOMINGUES

Joana is half Brazilian half Spanish and grew up in the capital of Brazil, Brasília. After her bachelor qualification she obtained a Master's degree in Fine art at the University of Barcelona, Spain. She has a great sense of adventure and travel, and this pulled her to a career in the yachting industry. With her happy and colourful personality and excellent cocktail skills she is sure to make your experience onboard one to remember. As well as being fluent in 3 languages (English, Spanish and Portuguese), she is also a qualified yoga teacher and excellent with children. She has incredible skills for producing events and parties. Joana is a PADI open water diver and enjoys traveling and exploring in her spare time. Her favourite hobbies are yoga, surfing, diving and hiking.

CHEF (Rotation)
NORMAND BOUCHARD

Normand started working in restaurants as prep cook at an early age. His love of cuisine was transmitted by his mother who was a great cook, and enhanced by his curiosity about different foods. After first studying Engineering at University, he realized he wanted to live from his passion so he went to L'institut de Tourisme et d'Hotellerie du Québec in Montreal, Canada to study French cuisine. After graduating, he worked as a Chef in a Hotel located in a ski resort in Whistler Canada where he was able to practice his favourite sport: Skiing. He then went on to work at a restaurant in St Thomas, VI for a few months before heading to the Med on a sail boat. Once in Monaco, he started his career as Chef onboard a 42 m yacht, and has been in the Yacht charter industry ever since. In his free time, Normand enjoys cycling, swimming and travelling.

CHEF (Rotation)
MICHAEL MACHADO
Michael is a Canadian native, born in Toronto, with a passion and flair for the culinary arts. He graduated with Honors from the Canadian Food and Wine Institute in 2011. With his natural talent and ambitious mentality, Michael has been fortunate to work with some of Canada's top chefs. In 2015, he entered the yachting industry to combine his desires of food and traveling. He excelled in his craft on professional programs ranging from 130ft to 300ft Vessels. With Michael as your personal chef aboard, you can be sure to have your taste buds tingling while enjoying the open ocean view.

DECKHAND/DIVE MASTER
COURTNEY DIENO

Growing up on the west coast of British Columbia, Canada, Courtney developed a love for being close to the ocean. That love turned into a career in Lifeguarding/Swim Instruction which resulted in her completing her PADI Divemaster training in Roatan, Honduras. Through running her own swim teaching program, she acquired great leadership and teaching skills to all ages. She easily engages with the people around her and smiles through every experience she has on the water. Courtney is eager to making the guest's experience one they will never forget. Whether you want to strap on a tank and explore the world below or lay in the sun with a drink in hand, she will be there to ensure your experience is a memorable one.