Summer location
W. Med -Naples/Sicily, W. Med -Riviera/Cors/Sard.
Winter location
W. Med -Naples/Sicily, W. Med -Riviera/Cors/Sard.
Originally built in 1953, DP Monitor was the first tugboat in Italy to be transformed into a luxury yacht in 1991. Moreover, she has been totally refitted in 2011-2012 by the new owner and meticulously maintained. Last 2020 refit includes new moquette in the interior areas and new teak in the exterior spaces.
The charm of DP Monitor has no equal: she captures timeless Benetti styling, while offering all the amenities and comfort of a modern yacht. DP Monitor feels incredibly spacious as it is wider than most other 30 mt. yachts are and boasts chic furnishings and decor throughout.
With her three decks, she can comfortably accommodate up to 10 guests: the upper deck boasts a huge full beam solarium and house the Captain's cabin and the cockpit. A little additional deck over the Captain's stateroom offers a more private escape for those who wish to relax and sunbath in complete privacy.
On the main deck, a large and stylish salon completely designed in a Victorian style but with a modern twist. It features a sophisticated velvety sofa, two comfortable armchairs and a rich wood tea-table with four seats. The dining area is alfresco, on the aft deck, that also include a large sun padded settee.
The foredeck houses a fully equipped kitchen, an utility/laundry room and a separate crew quarter.
On the lower deck there are five tastefully appointed cabins, all with ensuite bathroom and shower: two double suites, two twins and a pullman berth cabin; like most of the Benetti classics, they are all lined with warm wood walls, complemented by a soft and clear moquette.
DP Monitor features all the elegance and charm of a period yacht and, due to her original function as a tug, she is resistant, tough and stable; her consistent fuel and water capacity makes her ideal for long navigation.
Her timeless glamorous appeal, her reliability and her over 100 square meters of exterior deck space, make her ideal to cruise the beautiful Mediterranean coastlines in complete comfort and style.
Stand out from the crowd with this statement gentlemen's yacht.
Cabins: N. 5 cabins for total 10 guests

Owner Cabin with double closet and big bathroom (bed size 195 x 173 cm).

Guest Cabins: They are all on the lower deck. 1 VIP double cabin (bed size 183 x 156 cm) + 2 twin (bed size 180 x 80 cm) and 1 guest cabin with pullman berth. All have wide wardrobe and complete bathroom.
Price Details
High season rate: July, August & Events
VAT exempt
Plus Expenses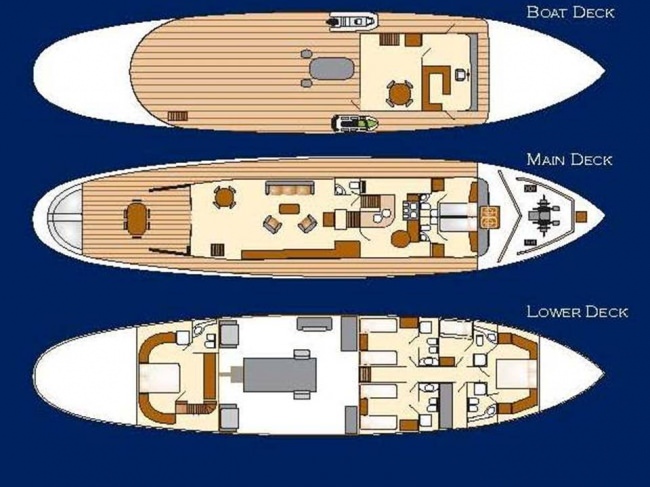 Toys:
Tender PIRELLI PZERO 420 (2010) with YAMAHA 40 Hp
PIRELLI PZERO 470 (2010) with YAHAMA 40 HP
Waterski
Snorkeling gear
Fishing gear
1 kayak (2 seats)
1 Sup
Inflatable toys
Wi-Fi connection
Captain- Filippo Matarese, Italian, 45 y.o.

Captain Filippo is a professional experienced Captain, he has been working in the Yachting Industry for more than 20 years.
His love for the sea came from growing up in the beautiful island of Ischia, where he obtained the Technical Nautical degree.
With a proven management cruising experience, he holds the Italian Nautical License without limits over 24 miles from the Coast and the English Nautical License YACHTMASTER 200 GT with commercial endorsement.
With both private and charter experience Filippo has worked on high profile power and sail yachts.
Committed to high standards, he loves working with a well trained crew that exceed expectations.
Italian mothertongue, he has an advanced knowldedge of English and Spanish.


Engineer- Michele Caracciolo, Italian, 52 y.o.

Michele is a reliable and skilled crew member and comes with a wealth of experience and knowledge in the Nautical Field.
Boasting a long experience in the Navy, over the years he has successfully held the role of Chief Engineer dealing with the maintenance works.
Expert in all systems available on board, he always does his utmost best to ensure that guests have a safe and relaxing yachting experience.
Service-oriented and professional, Michele is very motivated and ready to work aboard Dp Monitor.
Italian mother tongue, he speaks a basic level of English.



Chef- Daniela Marineac, Italian, 53 y.o.

Daniela is a very passionate, professional Chef.
Daniela's endless creativity enables her to succeed in creating a vast range of appealing menus, particularly in crafting bespoke menus for his guests.
She started her career working in the main restaurants of Ancona where she learnt the tricks of the trade.
Thanks to her well-established experience, in 2015 she decided to move into Yachting Industry employing as Chef aboard charter yachts, being involved in a wide range of culinary roles.
Her deep experience has helped her broaden her culinary and personal education by having being exposed to different markets, cultures and flavors.
Italian mother tongue, she speaks an advanced level of romanian and a basic level of English, Spanish and Russian.



Stewardess- Marialoreta Popolla, Italian, 27 y.o.

Marialoreta is a committed, energetic, proactive and enthusiastic crew member. After obtaining the qualification of Tourism Expert, she decided to gain experience, employing in bars and restuarants as waitress and sous chef, developing a deep interest in hospitality and catering field.
She decided to join Yachting Industry to aplly her skills and to explore new places meeting interesting people from across the world.
Used to work in team and detail-oriented, Marialoreta, will provide the highest level of service to ensure the guests have the best experience possible.
Italian mother tongue, she speaks a basic level of English, French and Spanish.



Deckhand/Sous-chef - Angelo Espana, Italian, 31 y.o.
Angelo started his maritime career 9 years ago. He is onboard DP Monitor as a deckhand and sous-chef since 2011, his deep knowledge of the yacht and desire to please make him a fantastic charter deckhand who looks after his guests to the best of his abilities. Angelo manages all the daily maintenance of the outside of the yacht and is responsible for driving the tender and transporting the guests to and from shore. Angelo enjoys a high standard of customer service and personal interaction and his tasks include also the preparation of appetizers and cocktails. Angelo is a native Italian speaker and speaks good English.

Start date: Jun 29, 2023, End date: Jul 09, 2023 - Hold: Salerno to Salerno
Start date: Aug 20, 2023, End date: Aug 27, 2023 - Hold: Salerno to Salerno