Summer location
Bahamas, USA - Florida East Coast
Winter location
Caribbean Virgin Islands (US/BVI), Bahamas, Caribbean Leewards, Caribbean Windwards, USA - Florida East Coast, Caribbean Virgin Islands (US), Caribbean Virgin Islands (BVI)
PLAN A is a fantastic example of the popular 130' luxury charter yachts built by Westport. She just completed a 2021 refit with many upgrades. She offers accommodations for 10 in five luxurious staterooms as well as a stylish, spacious and comfortable interior, complimented by exterior areas that provide panoramic views from the sun deck bar. You can relax on the Portuguese deck, which leads down to a magnificent seating area on her bow. Equipped with cutting-edge electronics and communications, including V-Sat, Wi-Fi, zero speed stabilizers and many additional upgrades. PLAN A not only offers a comfortable platform to soak up the sun, entertain or simply be pampered, but also provides a wide variety of water sports and toys for entertaining guests while underway. Book her today and experience a luxury vacation on the water only she can deliver.
1 Master Stateroom en suite with King bed (on Main Deck)

Below Main deck:

2 X Guest Staterooms en suite with King Beds

1 Guest Stateroom en suite with Queen bed

1 Guest Stateroom en suite with Twin beds (one of which can be folded away like a pullman to make space for exercise equipment or cot)
Price Details
For day rate use high rate divided by 6.
No delivery fees to Nassau for term charters of 5 days or more.
10 day minimum for Christmas / New Year's charter or a 1 week Christmas charter must end by Dec. 27 to accommodate any New Year's charter.
Plus Expenses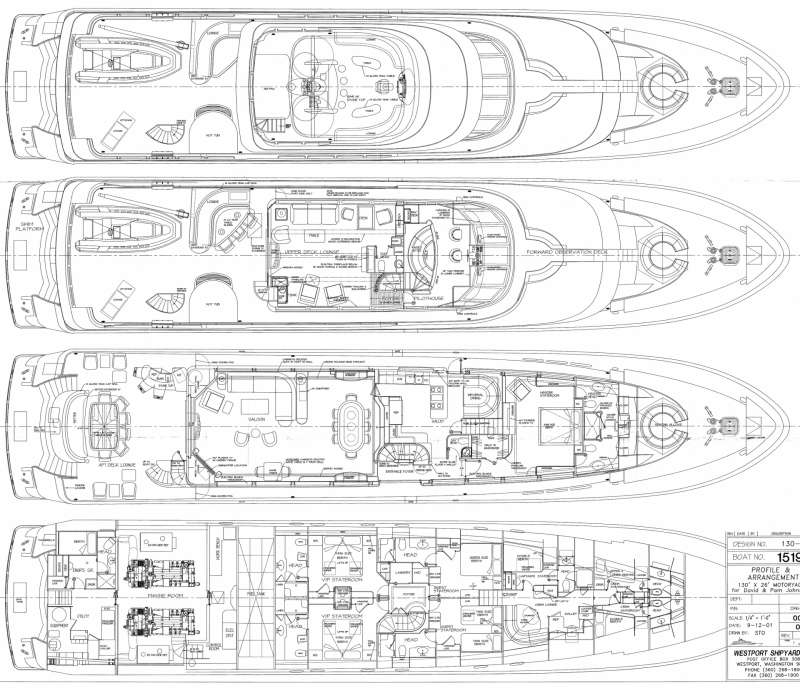 Toys:
34' Regulator Center Console Towed Tender
2 x Waverunners
2 x (2) Man Kayaks
Adult Water Skis, Kneeboard, Wakeboard
2 x Towing Tubes
Snorkel Gear - Adults & Kids
6 x Fishing Rods, Deep Sea Fishing
BBQ
Swim Platform & Boarding Ladder
Deck Shower
Sun Awnings
Elliptical machine
Stationary bike

Communication:
VSAT
SAT Phone
Cell Phone VHF
Single Side band
SATCOM
CAPTAIN
JD DUCANES
United States JD obtained his Bachelor of Science degree in Marine Biology from Florida Atlantic University. While attending University he became a dive instructor and went on to become a licensed United States Coast Guard Captain on a dive charter vessel out of Boca Raton. His natural progression into yachts began in the Caribbean in the early 1990's. In 1993, he became the project manager and Captain for a 105ft motor yacht built at Broward Marine in Ft Lauderdale, FL. He remained Captain over the following four years traveling to Bermuda, Alaska and extensively through-out the Caribbean. JD has been a project manager on four new yacht build projects some with helicopter and submarine operations. In 2010 he was tasked at building and then piloting the first triton ABS Certified submersible to go on a yacht. Since he came into yachting, he has traveled extensively covering the Caribbean, Bahamas, East and West Coast of the US, Central America, British Columbia, Alaska and the Mediterranean. JD also holds a yacht brokers license with Reel Deal Yachts. He is always excited to share his passion for the sea and warmly welcomes you aboard "Plan A" which he has been the captain of since 2016.

FIRST OFFICER
Robert Winter
South Africa Rob was raised on a farm in Estcourt (near Durban), South Africa. He moved to Cape Town after high school and obtained his architecture drafting license. Where he worked fir the next three years. He was looking for a change and decided to take to the seas and has been working on yachts ever since. He has been in the yachting industry for just over 4 years now and on a range of different yachts traveling the Mediterranean, Bahamas, Caribbean, US East Coast, South Atlantic and South Indian Oceans. He is on track to complete his Master 350GT, Chief Mate and Master 500 and his goal is to be a Captain one day.
He enjoys sailing, surfing, kayaking, scuba diving, motocross, rock climbing, travel, horseback riding and is a certified river guide.

ENGINEER
Ogliver Ovalles-Venezuela Jose was born and raised in Venezuela. He attended a military high school for 5 years and proceeded to continue his education and graduating from a Maritime University with a bachelor degree in Marine Engineering Systems. After graduation he worked in commercial vessels making his way up working as Third, Second and First Engineer. He has extensive experience in the yachting industry working as an Engineer on some of the top mega yacht builders. Jose Interests includes; a wide variety of music, eating out in new local restaurants, enjoying the outdoors, jogging and traveling.

CHEFS
Carlos Valle-Italy/Argentina
Carlos found his passion for food early in life and has over twenty years experience working in hospitality since 1998. He has worked all over the world - from awarded restaurants and five star hotels to private boutique chalets and 150 meter Superyachts. He began his professional career in Yachting in 2011 and has had the pleasure of working for the Italian Royal Family, ministers from Qatar and China and a host of household names, including Sting, Robbie WIlliams and Coldplay. He holds a professional Culinary Arts diploma and a European Master of Gastronomy degree. Carlos is also the author of two cookbooks : " 5 from my Galley " & " 5 from the orchard". Carlos combines his wealth of experience and expertise with engaging interpersonal skills to produce unforgettable dining experiences. His cooking inspiration is drawn from a broad spectrum of global cuisine, including Italian, classic French, light Mediterranean, Japanese, Middle Eastern and other regional specialities. He is adept at tailoring menus to suit personal preferences and dietary requirements.

Chief Stewardess
Fernanda Cruz-Mexico Fernanda considers herself to be a very energetic and positive person. She is always looking forward to the next challenge. She has an extensive background in the hospitality business, beginning in the cruise ship industry at the age of twenty. She loves hosting and taking care of people. She also loves traveling and seeing new places. Fernanda is a very family oriented person cherishing time spent with family and friends. Seeing the variety of beaches while on her travels is one of her favorite things to do.

Deckhand
Yage Bunce-South Africa Yage grew up in Hout Bay a small seaside village just outside of Cape Town. It used to be a small fishing village established in 1867 by Dutch Settlers. During his teenage years he attended SACS. SACS is a traditional all boys school and it is the oldest high school in South Africa, founded in 1829. As a student he enjoyed economics, physics and design and played both rugby and waterpolo as his summer and winter sports. After high school he decide to join the yachting industry and traveled to Palma de Mallorca a few months after graduating. He spent two years working on a classic sail yacht before deciding to return home to South Africa to pursue a Business commerce degree in economics. After five years at home he returned to yachting seeking some travel and adventure.

Stewardess
Nakita Alexander-South Africa Nakita is from Pietermaritzburg (near Durban), South Africa. She is an energetic, creative and a ray of sunshine. She grew up loving the ocean, both above and below. Following school she chose a life at sea and has traveled the entire coastline of Italy, West to East. Her travels have taken her across the Atlantic to the Bahamas which she spent the last year. She has a passion for her work and aspires for perfection. She has thoroughly enjoyed her career in yachting and her goal is to be Chief Stewardess one day. Nakita also enjoys special effects makeup artistry, bartending, culinary and performing arts, fire dancing, and flower arrangement.
Start date: Sep 18, 2023, End date: Dec 13, 2023 - Unavailable: Newport, RI* to St Barths