Summer location
W. Med -Naples/Sicily, W. Med -Riviera/Cors/Sard.
Winter location
W. Med -Naples/Sicily, W. Med -Riviera/Cors/Sard.
A splendid example of Italian shipbuilding, Nafisa is a classic "Gentlemen's yacht" with its expansive deck spaces that make her ideal to those who really wish to experience life on the sea.
Rebuilt in 1995, Nafisa is in excellent conditions also thanks to several refits and upgrades, the last one in 2019/2020 that included, among others, the creation of a new ensuite bathroom for the main deck cabin, a new coffee room and the building of a beautiful sundeck over the current shaded alfresco dining area, to offer extra space to sunbathe and enjoy the surrounding panoramas.
She offers comfortable accommodation for 10 guests in a magnificent full beam Owner' s stateroom, a VIP suite, 2 spacious twin cabins and 1 additional double cabin.
Nafisa boasts very ample open spaces, offering a variety of different seating and lounging areas: on the fly bridge, two huge sofas, an al fresco dining area and a fantastic 4 seats Jacuzzi to relax while admiring the breathtaking views of the Mediterranean landscapes. On the main deck Nafisa hosts a huge salon, a beautiful relax area at stern with a coffee table and sofas and a beautiful solarium on the foredeck. She also boasts a full gym equipment with stationary bike, stepper, yoga mat, weights, kettlebell, elastics, resistance band.
Nafisa's cruising speed is 13 kn but she can cruise at a lower speed of 11 kn with a reduced fuel consumption of 220 Litres/Hr.
Stable, comfortable and stylish, Nafisa is the perfect choice for unforgettable cruising holidays.
Nafisa offers excellent accommodation for 10 guests in a magnificent Owner's stateroom including full widht, one VIP guest's suite, 2 spacious Twin cabins en-suite, 1 brand new double cabin located forward.
Plus Expenses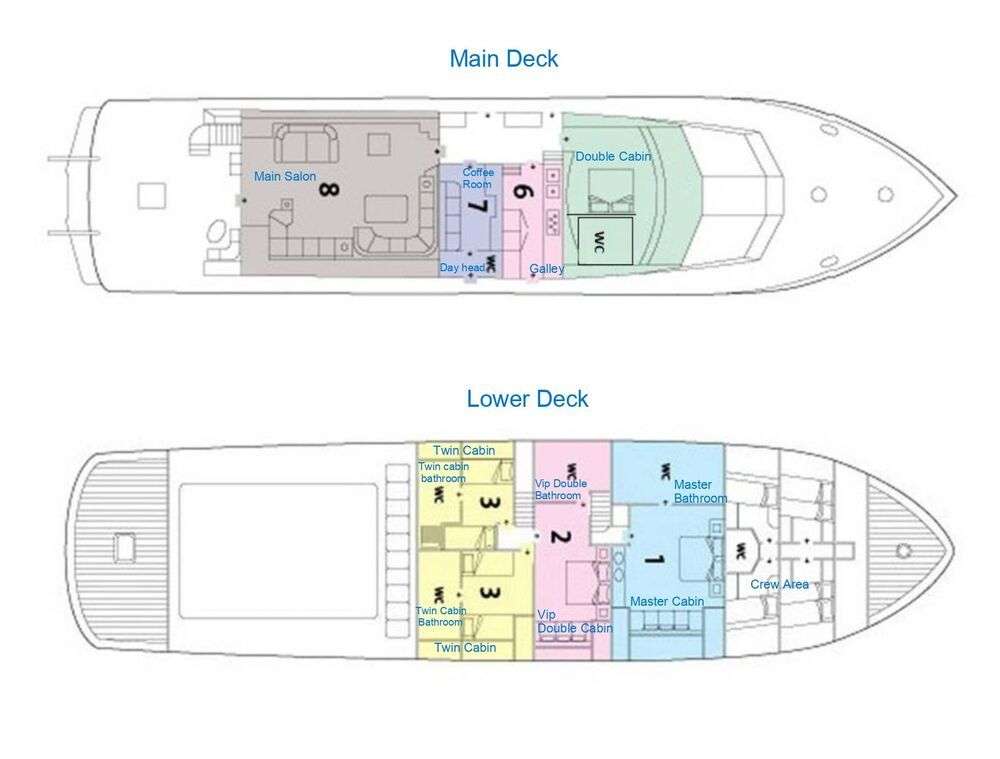 Toys:
Tender Dinghy 6 mt. 100 hp
Tender Stil Mar 7 mt. 200 hp Honda four-stroke
Donuts
Snorkelling equipment
waterski
inflatable toys
2 new kayaks
4 new SUPs (Stand Up paddleboard)
1 new Windsurf
1 Wakeboard
1 brand new water slide
Entertainment:
Nafisa boasts a full gym equipment with stationary bike with 7 training programs, stepper, yoga mat, weights, kettlebell 6 kg, resistance band.
A very professional crew made up of Captain Salvatore Costagliola + 5 members.

Captain: Salvatore Costagliola, Italian, 57 y.o.

Born in the beautiful island of Procida, Salvatore is a reliable seamen with more than 23 years of cruising experience.
He started working aboard merchant ships when he was very young and later he become Master on an Oceanographic vessel. Then he spent many years working as a Captain on several yachts before coming at the helm of Nafisa. His great skills in navigation, his kindness and his ability to lead a team make him a valuable Captain.
He's an expert of the Amalfi and Neapolitan Coasts and he's always happy to introduce his guests to the secrets of these amazing lands.
Salvatore holds also a PADI qualification and speaks English.

Chef : Daniela Marineac, Italian, 53 y.o.

Daniela is a very passionate, professional Chef.
Daniela's endless creativity enables her to succeed in creating a vast range of appealing menus, particularly in crafting bespoke menus for his guests.
She started her career working in the main restaurants of Ancona where she learnt the tricks of the trade.
Thanks to her well-established experience, in 2015 she decided to move into Yachting Industry employing as Chef aboard charter yachts, being involved in wide range of culinary roles.
Her deep experience has helped her broaden her culinary and personal education by having being exposed to different markets, cultures and flavors.
Italian mother tongue, she speaks an advanced level of romanian and a basic level of English, Spanish and Russian.


First Officer: Giovanni Grande , Italian, 27 y.o.

Born in Sicily, Giovanni grew up in direct contact with sea, sun and nature, developing a deep passion for sea life.
Pursuing his love for boats and sea, he attended the Maritime High School where he obtained the Marine Surveyor's degree.
His love for the water and boating paired with his passion for hospitality is what led him to get into Yachting Industry.
Very friendly and always ready to lend a helping hand, Giovanni is a very fast learner and is willing to join Nafisa's crew.
Italian mothertongue, he speaks a basic level of English.

Deckhand: Ciro Barbieri, Italian, 20 y.o.

Born in Ischia (Naples), sea has always been part of Ciro's life.
Ciro decided to join the Yachting Industry because he felt it suited his character best.
Following his passion for the sea, Ciro attended the Nautical Institute and started working very soon gaining the technical skills needed to maintain a boat, as for craftwork, mechanics and general maintenance.
Passionate about his work, Ciro has a positive attitude to the work and believes that a strong teamwork is a key aspect for a good yacht's daily running.
Italian mothertongue, he speaks a basic level of English.


Chief Stewardess: Ana Ghimpeteanu, Romanian, 39 y.o.

With an outgoing personality and positive attitude, Ana is used to work in team and ready to face stress situations.
Thanks to her proven experience as stewardess aboard luxurious yachts, she is able to make feel every guest welcomed and as comfortable as possible.
Holding excellent communicative skills, Ana ensures professionalism and competence aboard.
With precision and attention to detail, she is a valid crew member.
Romanian mother tongue, she speaks Italian and a basic level of English.



Stewardess: Marienne Sergi, Italian 20 y.o.

Marienne is a valid crew member, always keen to learn more in order to provide every guest with an unforgettable experience.
Born by the sea, in the enchanting city of Messina (Sicily), she attended the Nautical high school.
In order to join the Yachting Industry, she obtained the Certificate of survival and rescue; the Certificate of elementary medical first aid on board merchant vessels and the Certificate of training for seafarers.
Driven by the passion of traveling and meeting new people, Marienne worked as stewardess aboard a pleasure sailing yacht and is ready to welcome guests aboard Nafisa with the utmost professionalism and discretion.
Italian mother tongue, she speaks a good level of English.




Start date: Oct 03, 2023, End date: Oct 10, 2023 - Booked: Naples, Italy* to Naples, Italy*