Summer location
Greece, Turkey
Winter location
Greece, Turkey
In current times when the industry is concentrating more and more on larger yachts, Serenity 70 is one of the few motor sailers that is available for charter in the East Med which is modest in size and budget without compromising on luxury and comfort. She has a very cosy honeymooner master cabin with a white interior and four portholes that flood in reflections from the sea. The remaining two double cabins are smaller in size and ideal for children or younger adults, though throughout her charter history this vessel has successfully accommodated six adults during many charters. Taking into consideration that guests will spend almost all their time outdoors, the limited space of the two double cabins is over shadowed by the comfortable aft dining area, inviting flybridge, ideal forward sun tanning area and the variety of amenities and water toys that you would normally only find aboard much larger vessels. The salon is very functional and includes a traditionally designed bar area with high seats facing panoramic views of the outside that is just perfect for enjoying an evening drink with friends and crew.
-Saloon with A/C, bar, dining area for 6 guests

-1 forward master cabin with queen size bed, bathroom, A/C

-1 port side double cabin with french size bed, bathroom, A/C

-1 starboard double cabin with french size bed, bathroom, A/C

-2 crew quarters for 3 crew members

Price Details
DAILY CHARTER RATES 2023
April / May / October / November € 1,350.-
June / September € 1,700.-
July / August € 1,950.-

Minimum 4-night booking requirement.

Home Port: Göcek Embarkation Time: 15:00PM Disembarkation Time: 10:00AM
Very Early Booking Discount: 10% (valid for all bookings confirmed before 31 January 2023)
Early Booking Discount: 5% (valid for all bookings confirmed 4 months before embarkation)
Long-Period Booking Discount: 5% (valid for all bookings of 14 days or longer)
*Total combined discounts may not exceed 10%

Charter Rate Includes
 VAT
 Fuel for up to an average of 4 hours of cruising per day in Turkish waters
 Fuel for 12 hours/day of generator use and A/C use in Turkish waters
 Turkish harbour and domestic transit log fees (private marinas are not covered)
 Wi-Fi (Free of charge up to 25GB/week in Turkish waters)

Charter Rate Excludes
 Food and beverage expenses
 Foreign and private marina fees
 Fuel cost for water sports and leisure use of the tender
 Greek island harbour fees and all entry/exit costs between Turkey & Greece
 Crew gratuities (5%-15% of total charter fee is considered the industry average)

FOOD & BEVERAGE EXPENSES can be covered in the following ways;

FULL BOARD OPTION
€ 70.- / day / adult
€ 50.- / day / child aged 5 to 12
Covers all meals, snacks throughout the day and unlimited soft drinks. Alcoholic beverage expenses are extra on a cost basis.

HALF BOARD OPTION

€ 55.- / day / adult
€ 40.-/ day / child aged 5 to 12 Covers breakfast, one more meal, snacks throughout the day and unlimited soft drinks. Alcoholic beverage expenses are extra on a cost basis.

EXPENSES ONLY OPTION

All food, soft drinks and alcoholic beverage expenses are covered by the guests on a cost basis.

*Infants under the age of 5 are not charged any full or half board fees
Plus Expenses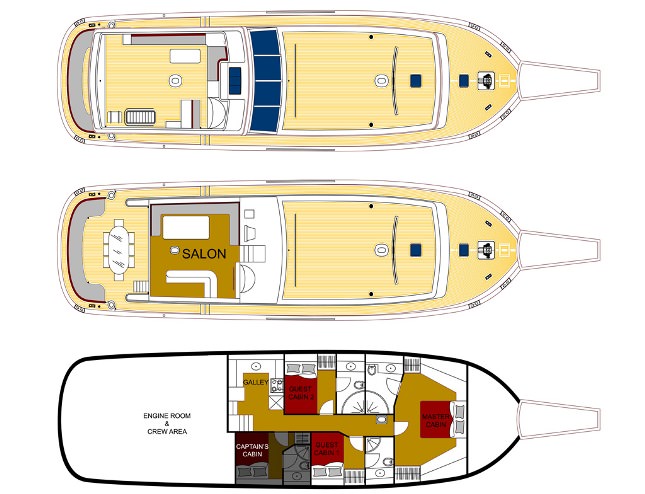 Toys:
-1x 4,20m Joker Tender 70hp Yamaha (6 guests)
-2x Single Canoes
-1x Adult Water Ski
-1x Child Water Ski
-1x Wakeboard
-1x Mono Ski
-1x Kneeboard
-2x Ringos
-Snorkeling Equipment
-Fishing Equipment (2x rods, 2x longlines, 6x basic lines)
Entertainment:
-Local Channel TV in Saloon
-DVD/CD Player in Saloon
-Bluetooth Speakers
-WiFi
-Board Games
Communication:
Wi-Fi available in Turkish waters free of charge up to 25GB/week)
CAPTAIN/ Mehmet Caliskan
Captain Mehmet was born near Marmaris and has been at sea since early childhood. For the last six years he has held Captains position on board charter vessels in Turkey and knows the coastline like the back of his hand. He is a happy person, very energetic and good natured. In his spare time he enjoys reading and spending time with his family. Mehmet speaks good English and Turkish.

CHEF/ Alican Sayar
Alican was born in the East part of Turkey. In 2012 he started his career in the maritime industry and since then he was keeping himself up-to-date, following new styles and techniques. He loves Turkish cuisine and is particularly talented with seafood. Alican maintains and enjoys good relationships with guests and crew, thanks to his humble personality. He speaks Turkish, English and Arabic.

DECKHAND/ Alpay Arslan
Alpay has been the chef on board since 2007 but in 2015 he promoted himself to deckhand position, in order to lay the path to becoming a charter Captain in the coming years. Serenity 70 is Alpays second home and the great feedback from all the guests in the past years is a very accurate presentation of how passionate he is about his work. He has great communication skills and is very good with people. Alpay lives near the coastal town of Marmaris with his wife and a very handsome little son. In his free time he loves repairing and riding motor bikes. He speaks Turkish and English.
Start date: Sep 27, 2023, End date: Oct 01, 2023 - Booked: Gocek, Turkey* to Bodrum, Turkey*
Start date: Oct 02, 2023, End date: Oct 07, 2023 - Booked: Bodrum, Turkey* to Gocek, Turkey*
Start date: Oct 09, 2023, End date: Oct 14, 2023 - Booked: Kas to Gocek, Turkey*
Start date: Oct 15, 2023, End date: Oct 20, 2023 - Booked: Gocek, Turkey* to Gocek, Turkey*