Summer location
Greece
Winter location

One owners cabin - and three double cabins all with private bathrooms
Price Details
RATES 2021
Period A (July-August) EURO 38500/week
Period B (June - Sept) EURO 35000/week
Period C (October - May) EURO 29500/week
+ VAT 13% + APA 20%
Summer Base Port: Athens
Summer Operating Area: Greece
Winter Base Port: TBA

Alternative embarkation ports - please enquire

Plus Expenses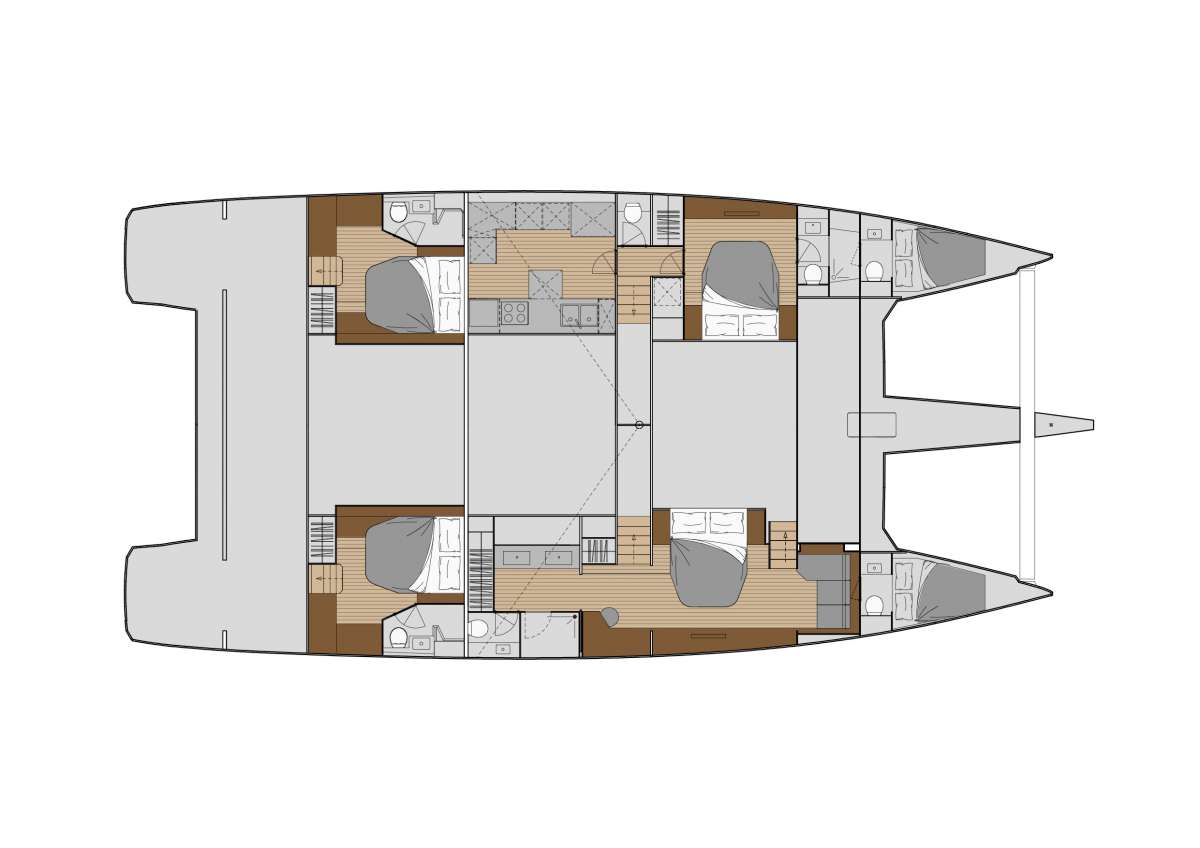 Toys
2 X seabobs (one with Seabob Cam) with quick chargers,
1 Radinn G3 Freeride Jet Board,
1 Jobe kneeboard,
1 Jobe Maddox wakeboard,
Jobe Lunar towable 3 seater,
2 X Jobe Multi board,
Banana (3 seater),
snorkelling gear,
fishing gear
Captain: Giorgos Mourmouris
Giorgos passion is the sea! He has been sailing since the age of twelve and has reached almost every corner of the planet. A true seaman at heart there is no place that he rather is than on the deep blue sea. He is RYA Ocean Master licensed for both power and sailing yachts, and a divemaster. A wealth of knowledge and experience in both the Mediterranean and Caribbean along with a professional attitude and meticulous eye for detail. His relaxed leadership style and over 20 years of professional yachting experience Giorgos will help to get the best out of any situation and ensure a wonderful experience for you and your guests. He likes to maintain a relaxed and friendly atmosphere on board with an emphasis on sailing as much as possible. He is extremely professional and responsible and makes his clients feel right at home. In his spare time, Giorgos likes yoga, photography, music, and travel.

Chef: Vaya Bairaba
Vaya was born in Athens but spent her childhood in Kilada, a fishing village famous for the traditional wooden Kaiki boat shipyards. It was in Kilada that she found a connection and love of the sea. After her initial studies and a career in economics, she left that world behind to follow her passion for cooking. In 2011, she graduated from Chef d'Oeuvre in Athens- then, she combined cooking with her sea life and began working on board yachts. With a love of fresh, natural flavors and the beautiful produce in Greece, Vaya uses local fresh bioproducts to create exceptional dishes that will delight her guests.

In her free time, Vaya volunteers with several charity organizations. With her love of life, she enjoys dancing, filming, running, trekking, wood construction, gardening, ceramics, traveling, and discovering new places. Her enthusiasm and creativity are a perfect addition to the crew of Kimata. Her kind, welcoming nature will make guests feel at home and they are certain to have an incredible charter experience.

Languages: Greek, English, Spanish (fluent); French (conversational)

Stewardess: Anna Kasioti
Anna was born in Greece and has an extensive experience in both the yachting and hospitality industry. She has worked on several yachts. She holds a Silver Service certificate by IIEK Etoiles by Les Chefs Athens and a STCW basic safety training certificate. Anna speaks Greek and English fluently. She is a reliable crew member with an eagerness to please her guests. Anna's hobbies include Cross Fit, boxing, and jogging.

Active bookings
Start date: Sep 30, 2020, End date: Jul 01, 2021 - Unavailable: Athens to Athens
Start date: Jul 02, 2021, End date: Aug 05, 2021 - Booked: Athens to Athens
Start date: Aug 06, 2021, End date: Aug 13, 2021 - Hold: Athens to Athens
Start date: Aug 14, 2021, End date: Aug 28, 2021 - Booked: Athens to Mykonos, Greece
Start date: Aug 29, 2021, End date: Sep 05, 2021 - Booked: Mykonos, Greece to Athens
Start date: Sep 10, 2021, End date: Sep 17, 2021 - Booked: Mykonos, Greece to Athens
Start date: Sep 18, 2021, End date: Sep 25, 2021 - Booked: Athens to Athens