Summer location
Greece
Winter location
Greece
10 Guests in 5 Double all air-conditioned with en-suite facilities



SIZE OF BEDS:

All 2 x 1.5 m





HEIGHT OF CABINS: 2.00m
Price Details
July/August : 20800 EUR per week plus Applicable VAT at the time of charter, currently 12%, and expenses
June/September: 18500 EUR per week plus Applicable VAT at the time of charter, currently 12%, and expenses
Low Season: 16000 EUR per week plus Applicable VAT at the time of charter, currently 12%, and expenses

She operates on a Saturday to Saturday basis. Embarkation at 17:00pm, disembarkation at 09:00 am

VAT rate is determined by applicable tax legislation and may be subject to change without prior notice or responsibility on the Broker, the Stakeholder or the Owner. Should any changes in applicable tax legislation take place after the issuance of a charter agreement resulting in changes in total amount(s) due then the difference will be credited or debited accordingly to the Charterer

Plus Expenses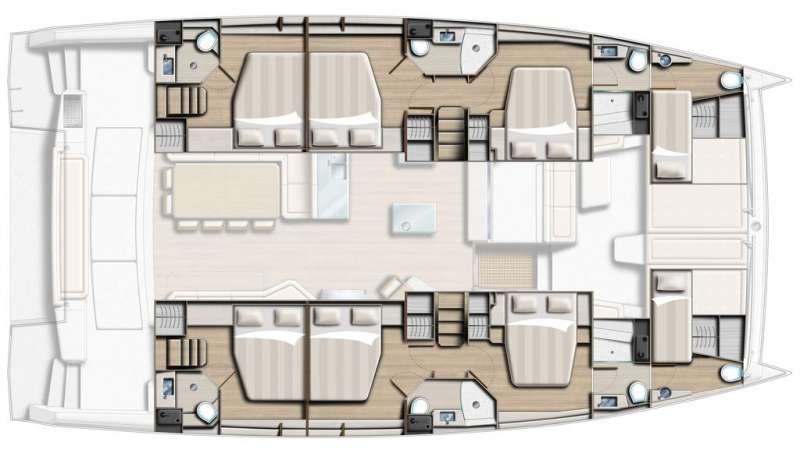 Captain: Stelios Choulakis
Coming from the Greek island of Chios, the cradle of Shipping and Seafarers, being the son of a Captain and the grandson of a fisherman, the sea life is a way of living for him.He has been sailing from a very young age in many different sailing clubs in Greece and abroad. He organized and participated in national and international sailing races and he has been working in the yachting industry the past decade.His studies in Business Administration and Shipping helped him shape a business-oriented and leadership mindset with excellent interpersonal and communication skills. Having traveled to more than 40 countries, he understands the needs of fellow travelers and he always does his best to create memorable experiences. He speaks Greek, English and German

Chef Sakis Kiriakidis
Sakis is born in Athes in 1990, he is a highly skilled chef who is passionate about exploring and enjoying delicious food. He specializes in cooking seafood, Mediterranean, Greek and Italian cuisine – always looking for top quality raw materials from the Greek traditional cuisine philosophy mixed with modern techniques. His hobbies include spearfishing, diving and football. He is married and he speaks Greek & English. Sakis believe that food is a key part of a good charter and loves working to create a bespoke menu for charter guests to enjoy!

Hostess Susana Sanchez
Susana Sanchez is a Spanish native passionate for outdoor activities, concerned and respectful with the environment, especially with the sea. Since she was young she start sailing and swimming as a hobbie and after became skipper, lifeguard and diver. She was involved during several years as crew member and hostess and with her at your trip you will feel pleasant, safe and comfortable!
Active bookings
Start date: Jun 06, 2021, End date: Jun 11, 2021 - Booked: Athens to Mykonos, Greece
Start date: Jun 13, 2021, End date: Jun 18, 2021 - Booked: Mykonos, Greece to Athens
Start date: Jun 20, 2021, End date: Jun 25, 2021 - Booked: Athens, Greece to Athens, Greece
Start date: Jul 24, 2021, End date: Jul 30, 2021 - Hold: Athens to Athens
Start date: Aug 03, 2021, End date: Aug 08, 2021 - Booked: Athens to Athens
Start date: Aug 29, 2021, End date: Sep 10, 2021 - Booked: Athens, Greece to Athens, Greece
Start date: Sep 12, 2021, End date: Sep 17, 2021 - Booked: Athens, Greece to Athens, Greece
Start date: Sep 19, 2021, End date: Sep 24, 2021 - Booked: Athens to Athens