Summer location
Greece
Winter location
Greece
Accommodates 12 guests in 2 master cabins, 3 double bed cabins and one with upper and lower bunks.

Crew sleeps in separate compartments
Price Details
2020 Rates
HIGH SEASON (July - August): EURO 18.000
MID SEASON (June & September): EURO 16.000
LOW SEASON (October - May): EURO 14.000
Plus Vat currently at 12% plus expenses APA 20%

Charters for less than a week are only available upon request and the weekly rate is divided by 6.

Plus Expenses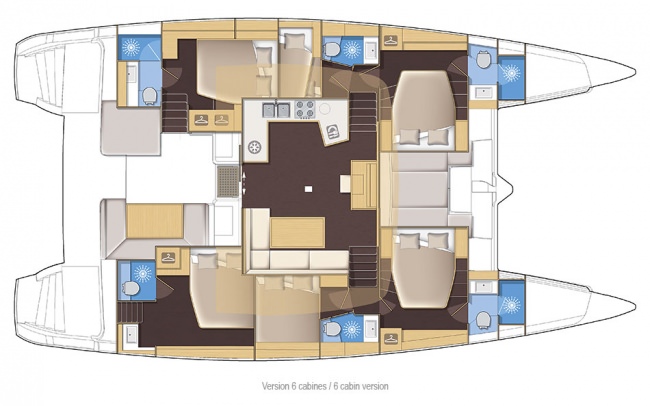 Toys
-TV FURNITURE WITH ELECTRIC LIFT IN SALOON AND 32� LCD TV
-TV ANTENNA
-BLU RAY DVD PLAYER
-FUSION RADIO CD / USB PLAYER AND LOUDSPEAKERS IN SALON, COCKPIT, FLY BRIDGE AND ALL CABINS
-B &G SONIC HUB
-WI-FI B&G MODULE WITH INTERNET CONNECTION
-SONY PLAYSTATION 4 WITH 2 CONTROLLERS + GAMES
-LAPTOP PC

Water toys:
DINGY 3.90m Highfield aluminium with 60HP outboard Yamaha, 2 X SUP, WATER SKI ADULT & CHILDREN's , KAYAK FOR TWO PEOPLE, SNORKELLING Equipment, FISHING GEAR, MONO TUBE, DOUBLE TUBE, Wakeboard
Captain Yiannis Tzortzis

Captain Yiannis was born in 1975 in Greece. From early on he had two main passions: Mechanical Engineering and sailing. So soon after getting 3 diplomas in Engineering he started his professional involvement with the sea. He is a well experienced captain, who has sailed the Greek and Mediterranean seas, knowing every little bay and harbor inside out. Captain Yiannis is able to cope with any difficult situation at hand responsibly and decisively. As serious as he takes his job, as kind and wonderful he is as a person. His guests call him a calm and gentle giant, who is always smiling, while kids just simply adore him. He speaks fluently English and makes everyone on board feel extremely welcome.
After serving nearly two years in the Greek Navy, he acquired his Skipper Diploma at the Delphinarium Yacht Club, he obtained the Rescuer Degree , First Aid CARPA, he was captain of various monohull sailing yachts, in one of which he was awarded the 1st Position in Rally Ionian 2011-2012, he worked on VitaminSea Leopard a 113,22 ft boat, which travelled for four months from Marseille to Athens, before he started working with crewed catamarans.
Here he has shown his full potential as Captain and host. His hobbies include Volley-ball, engineering and maintaining anything mechanical.

STEWARDESS – Anastasia Karagianni
Anastasia will be joining us on board Lucky clover this season and she comes to us with great recommendations. She likes to keep the boat in impeccable condition and is very detailed. She has a motor and sailing license. During the winter seasons she works as a director in TV programs, advertisements and other projects, her latest project was the Greek Master Chef where she was assistant to the Director. Her passion for the sea is what drove her to start working as a hostess in crewed yachts a couple of years ago. Her main goal is to attend to the guests and ensure that all is to their liking. She is hard working and very organized. She has completed courses on safety at sea and customer care. Anastasia looks forward to ´welcoming´ you on board!
Active bookings
Start date: May 02, 2020, End date: May 09, 2020 - Booked: Athens to Santorini, Greece
Start date: Jun 08, 2020, End date: Jun 26, 2020 - Booked: Athens to Rodos, Greece*
Start date: Jun 29, 2020, End date: Jul 06, 2020 - Booked: Athens to Athens
Start date: Jul 09, 2020, End date: Jul 19, 2020 - Booked: Athens to Athens
Start date: Jul 20, 2020, End date: Jul 23, 2020 - Booked: Athens to Athens
Start date: Jul 25, 2020, End date: Aug 01, 2020 - Booked: Athens to Mykonos, Greece*
Start date: Sep 07, 2020, End date: Sep 11, 2020 - Booked: Santorini, Greece to Paros, Greece
Start date: Sep 13, 2020, End date: Sep 18, 2020 - Booked: Mykonos, Greece to Santorini, Greece
Start date: Sep 21, 2020, End date: Sep 28, 2020 - Booked: Athens to Mykonos, Greece