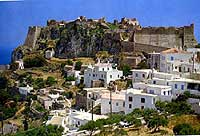 The island of Kythira located in the Mediterranean Sea 14 nautical miles off Kavo Maleas on the south-eastern most tip of the Peloponnese between Crete and Peloponesse, with name Kythira or Cerigo. Ships dock at Agia Pelagia near a beautiful stretch of coastline and bathing beach. The capital, Kythira, 30km (19 miles) south, is easily reached on the main roadway which crosses the island. It is a neat hamlet, built on a hillside overlooking the sea, which is crowned by a Venetian castle. Kapsali is the main harbour. Mostly rocky with many streams.

A Voyage to Kythira means to many people a nostalgic wandering in exotic and dreamt places, just like in Wattaeu's romantic painting "The Embarkment for the Island of Kythira" (L' Embarquement pour l' ile de Kythere). The myth of Kythira, also known as the island of love, goes far back in the traditions of France and Italy.

Cretes, Phoenicians, Hellenes, Romans, Byzantines, Venetians, French, British, they all took part in the creation of the island's tradition, building a social, economical and cultural originality, which balances the hellenic tradition with the western influence in a harmonic wholeness. A totality that contains past and present, the roughness of nature and the stillness of human structure.
| | |
| --- | --- |
| | |