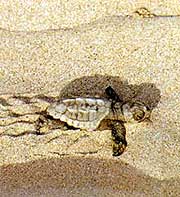 Taverns along the water front echo madoline serenades as strolling musicians and waiters alike break into song along the our of midnight when summer days call and stars gleam romantically overhead.
Zakynthos, intellectual and classy look as it has been cut off from the rest of the world, living with the glorious past. Zakynthos is located in the base of the Eptanese complex. Flowers decorate doors and windows.Tradition is kept alive.
Zakynthos Town is the capital (pop 9 764) and the main port of the island. The churches, palaces and squares with their fountains and surrounding arcades, which were built during the Venetian occupation, have made the town one of the most picturesque in the Adriatic after Dubrovnik. Although much of the town was destroyed in an earthquake in 1953, it has been rebuilt in the Venetian style. Soft nougat (mandolato) is a speciality.
Kastro
The old Venetian citadel, set on a hill, 100m - 361ft up, survived the earthquake and provides an extended view of the town, the bay and the coast of the mainland from Missolonghi (NE) to Pylos (Navarino) (SE) and including Chlemoutsi Castle.
Art Museum Platia Solomou.
Many items recall old Zakynthos: model of the theatre, paintings and engravings, furniture. There is a rich collection of icons from the 16C to the 19C by Damaskinos. Tzanos etc., and religious paintings by the 17C and 18C lonian School: massive iconostasis from the church of the Pantocrator, frescoes and murals from the churches of St George in Zakynthos, St Andrew in Volimes etc.
PLACES TO MOOR
Ag. Nikolaos - The bay is located on the northern tip of Zakynthos. It does get pretty busy due to the caiques which run hourly to the Caves. If there is a swell in the area of the caves and do not want to miss seeing (well worth seeing) moor in Ag. Nikolaos and take one of the caiques.
Port Zakinthos - A large busy harbor but does offer a good spot to leave the yacht and fill up on supplies. Fuel and water are available at the quay, and all provisioning can be found. Explore the islands natural beauties.
Porto Roma – Located on the SE tip of the island and offers good shelter from N-NW winds. Take a stroll on the beach with its beautiful wind sand befo re eating at one of the small tavernas.
Langana – A large bay, there is a small mole located but due to local fishing boats you probably will not find to tie. Drop anchor in the bay away from the disco