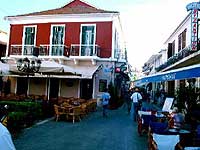 The precipitous cliff of Lefkada (The White Cape) juts dramatically into the sea, pointing towards distant Cephalonia. On the site of the lighthouse once stood a temple to Apollo. At which the notorious Lefkadian Leap - 236 feet straight down to the tumultuous sea below - proved the innocence of the survivor, or the guilt of less sturdy divers. The Leap also attracted its fair share of disconsolate lovers. The great lesbian poetess Sappho supposedly flung herself into the sea here in despair for her love for Pheion. The practical Romans perfected the leap by using wings to break the fall. The capital reflects the island's history, of Venetian influence in its dignified churches and houses. The 13th century fortress of Santa Maura tops sandy beaches where windmills and trees seem to rise straight from the open sea.
Beaches
The beach at Gyra at the entrance of the island (1200 m. from the city) pure white and endless is one of the most beautiful in Greece and fascinates the visitor on site.
Other beautiful beaches of the island are : Agios Nikitas, Vassiliki, Giros, Sivota, Porto-Katsiki, Kathisma, Nidri and many more.
Sports
Lefkada has some of the best places of Greece that are suitable for windsurfing. These places are the gulf of Fleva, Vassiliki (which is considered among the 10 best places in the world for windsurfing) and Nidri.
Night Life
The visitor can find restaurants, taverns discos, pubs and bars in the city and in many villages.
PLACES TO MOOR
Lefkas Town - The harbor offers good shelter as well as facilities. Care must be taken when entering and leaving the harbor not to cut across the corner of the canal east of the town when arriving or leaving from South. The depths are only ½ a meter.
Nidri – It can get a bit crowed as it is a yacht charter center where several flotillas start from. It is a quaint town which offers good shelter. You can provision your yacht with fuel, water, food and any repairs. There are several tavernas to choose from.
Tranquil Bay – This bay is located opposite of Nidri town, The bay provides good shelter and an impressive beauty with its olive and cypress trees surrounding the bay. It offer tranquility as name states.
Ormos Vlikho – There is a small quay and the bay itself offers good shelter. The prevailing winds here are northerly . Some provisions are available in town and there are several tavernas.