The Holy Island of the Cyclades.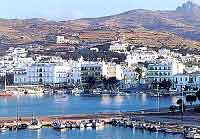 The island is the site of the Church of Euaggelistria (Virgin Mary). In this church there is a miraculous icon of the Annunciation which thousands of Orthodox christians come to pay their homage to every summer around the feast day of August 15th. and one of the most beautiful island of the Cyclades. A wonderful road connects most of the villages of the island.
In Tinos one can see fine exhibits of local architecture.People visit Tinos usually at all seasons, but mostly in summer. Especially in mid August. Each year on August 15th , pilgrims make their way to the capital and the church of the Holy Virgin, which contains an icon said to have miraculous healing powers. The church was built in 1833 and the hole structure with its arches and cells are made from marble provided by the island's quarries. Tinos is a green and fertile, with small valleys which produce fruit, olives and grapes. Tiny villages with their spotlessly clean white houses are matched by the island's countless clean white bays.
click on photos for larger view
Places to Moor
Tinos Main harbor - Offers good shelter but with strong southerly winds a surge maybe caused into the harbor. Water is available at the quay fuel is also available. There is also good provisioning in town.
Ormos Panormos - The bay located on the NE side of Tinos which does provide some protection from the meltemi. There are two piers the one has depths ranging from 5-6 meters the other has 2 meters
History Of Tinos
The ancient name of Tinos was Ofinoysa due to the many snakes that were on the island.Because of the strong winds people believed, according to mythology, that Tinos was the island of Eolos, God of the Winds. In Tinos you can see the remains of the temple of Poseidonas and Amfitritis at Kionia, which shows that people worshipped Poseidona.
Beaches
Not very far from Tinos is Agios Fokas (1,5 km South) and Kionia with a fine beach (3 km North),Agios Sostis and Agios Ioannis Porto.You can also swim at the beaches of Kardiani, Isternion and at the north shores of the island is Panormos and Kolympithras.
Night Life
At Kionia, Agio Foka, Stavro and Hora you can find discos, bars and night clubs.

Accommodation
Tinos Hotels - Budget & luxury hotels in Tinos