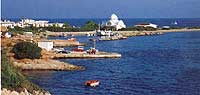 Agistri is the smallest of the Saronic islands, and is also the greenest, the most picturesque and the least developed. For these reasons, it is sometimes described as the best kept secret of the Saronic Gulf.

The island is an ideal resort for those who want to avoid the crowds and are looking for a peaceful, relaxing holiday in a friendly environment. For those who prefer a break from sunbathing, Agistri offers beautiful walks in the cooler, pine-forested interior. It is also possible to hire bicycles or mopeds to explore the island.

| | |
| --- | --- |
| | |
Agistri's other major village is Skala. It is attuned to the singles scene and has many shops, restaurants and bars that offer a change from the relative quiet of Milos. Although there is a small bus that operates between the two villages, the walk is pleasant on either the inland road or the beach road.Skala has a number of mini-supermarkets, some specialist shops, a bakery and a pharmacist. There are numerous tavernas, restaurants and bars. There are a number of very good Tavernas here. Notably, Andreas Taverna which offers many traditional Greek dishes, not just tourist food! You have to walk through an olive grove to reach it.

There are three villages on the island, the largest of which, Skala, is also the main port. Milos lies about 3 km along the coast and the traditional village of Limenaria is some 10km along the coastal road on the other side of the island.

Beaches
The main beaches are sand but there are a few rocky coves as well. The main beach at Skala is sandy and the gentle slope of the sea bed means that children can swim safely in the shallow waters. The water around Agistri is crystal clear and perfect for snorkelling from the nearby rocks. There is also a more secluded beach just past the Agistri Club which is very popular with nudists.